~World Cosplayers~ second issue is about Iranian cosplayerItako.
Her intense sexy looks gave us the image of a foreign cosplayer, but in reality she speaks in a very gentle and calm tone.
Even to us interviewers she kept her manners and spoke very politely, and her Japanese skills were very fluent with a wide vocabulary. Even her respectful speech was perfect, so she seemed like a "Yamato Nadeshiko" type of person.
Itako tells us about the cosplay world in Iran, how she recovered from a broken heart, how to enjoy cosplay, and much much more.

What is World Cosplayers?
【~From Japan to the world, from the World to Japan~】
A series of featured articles from the editorial department of emoma! about interesting cosplayers from various countries, who play an active part in either Japan or overseas.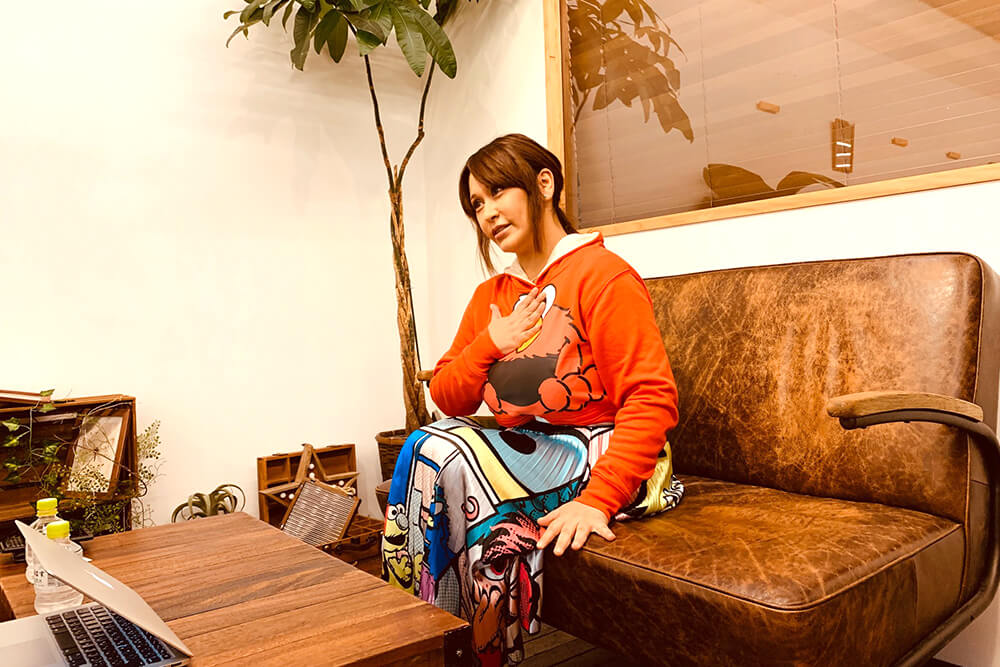 The influence of my Square Enix fanatic mother turned me into an Otaku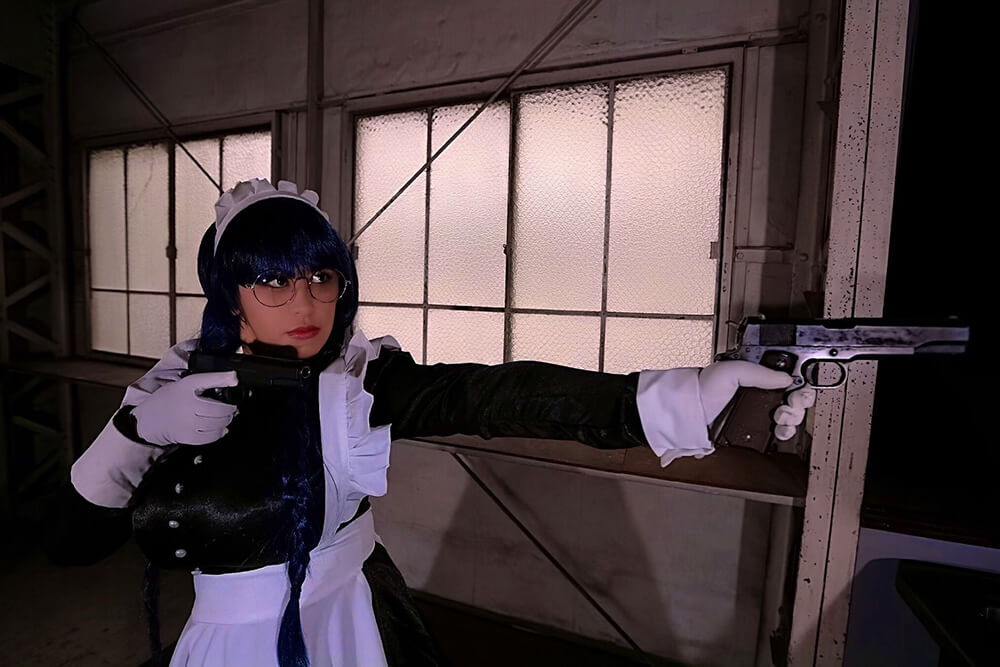 --- What sparked your interest in Anime and Cosplay?
My mother liked Anime and games, so I was always an Otaku.
My mother is a huge fan of Square Enix, she especially is fond of Final Fantasy's characters' faces.
When I was younger she often said "I wanted a child with a face that could show up in FF!" or "If I had a boy, I would have made him cosplay Cloud!".
Because of her, I also learned to love FF. I have 3 siblings and we all love Anime and Games.
Especially my youngest sister turned into a hard core Otaku, she has a bias, buys lots of merchandise.
--- Were you able to watch Anime in Iran?
Iranians love Japan! Anime is very popular there.
In Iran any sort of even slight erotic content gets confiscated, so for DVDs the covers would be thrown away and only the inside would be sold, but I still watched a lot of it.
My mother tongue is Persian, but I watched Anime in the original version in Japanese with English subtitles. When I was young I was into Dragonball, but when I grew up I liked "Fushigi Yuugi", "Slam Dunk" "Onepiece". One Anime that I was into the most was "Rurouni Kenshin" because it was so entertaining.
--- Is there cosplay culture in Iran?
Iranians really love Japanese culture and cosplay is very popular.
In Iran women have to cover up everything besides face and hands when they go outside. We have to cover up our head with fabric aswell, but even wearing wigs is not allowed.
But everyone loves cosplay so they come up with their own ways!
So they try to shape the cloth on their head into how the wig is supposed to look.
It's very creative and adorable.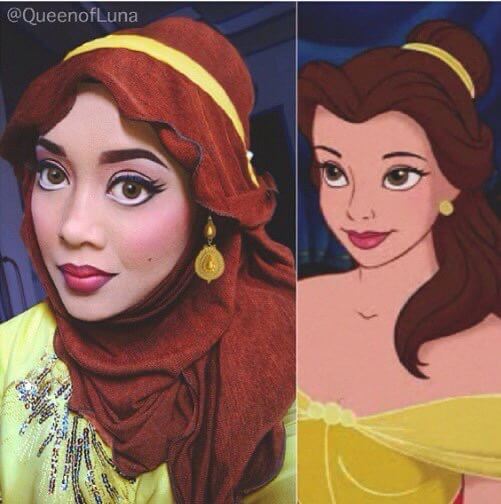 This is how cosplay has been done in Iran until now, but unfortunately we still not have cosplay events in Iran.
When I was in Iran, I did not have to cover my head at home, and there was no problem with wearing sexy costumes, so doing cosplay at home was a way to have fun.
Nowadays smartphones are everywhere, so cosplay is not only done at home anymore. By finding friends online on Twitter or other social media, groups are made to meet outside at a certain time and place to enjoy cosplay together.
Escaped from arranged marriage by coming to Japan!?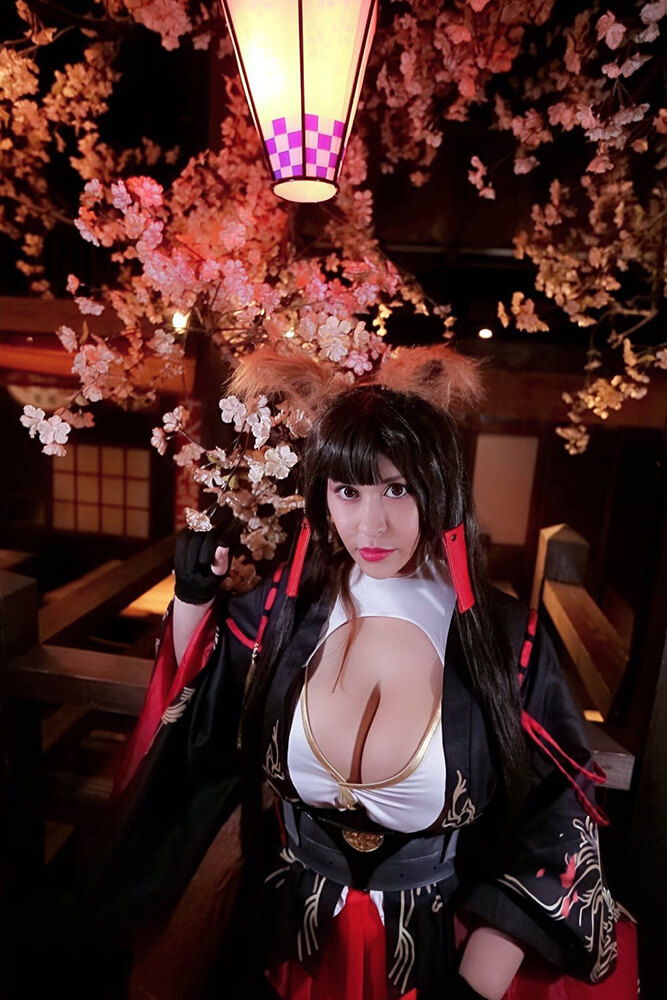 --- How did you end up living in Japan?
My family was selling Persian carpets in Iran, but we wanted to start selling them in Japan so we came here with the whole family.
My mother is half Iranian and Japanese, so I guess I am a quarter Japanese?!
Even now, me, my mother, and my father's brother who is the owner, still sell Persian carpets in Japan.
The job where one receives the most income from is considered one's main occupation, so for me that would be selling Persian carpets... I want to work hard to be able to say that cosplay is my main job.
--- When you first came to Japan, how did you feel?
"Yes! I can escape marriage!" is what I thought!!
Since in Iran marriage happens early, once a woman is around 16 years old she has an arranged marriage with distant relatives.
I was also in marriable age, so I had to do a lot of marriage interviews that I did not enjoy...
I discovered free love through anime, so maybe that was also something that influenced my disfavour of arranged marriages.
So I was very happy to go to Japan.
Once I came to Japan I really liked cosplayers, so when I came to Comiket's cosplay area for the first time I was overwhelmed with feelings and cried: "Wow! There are really so many cosplayers here!"
The start of late-blooming cosplayer "Itako"!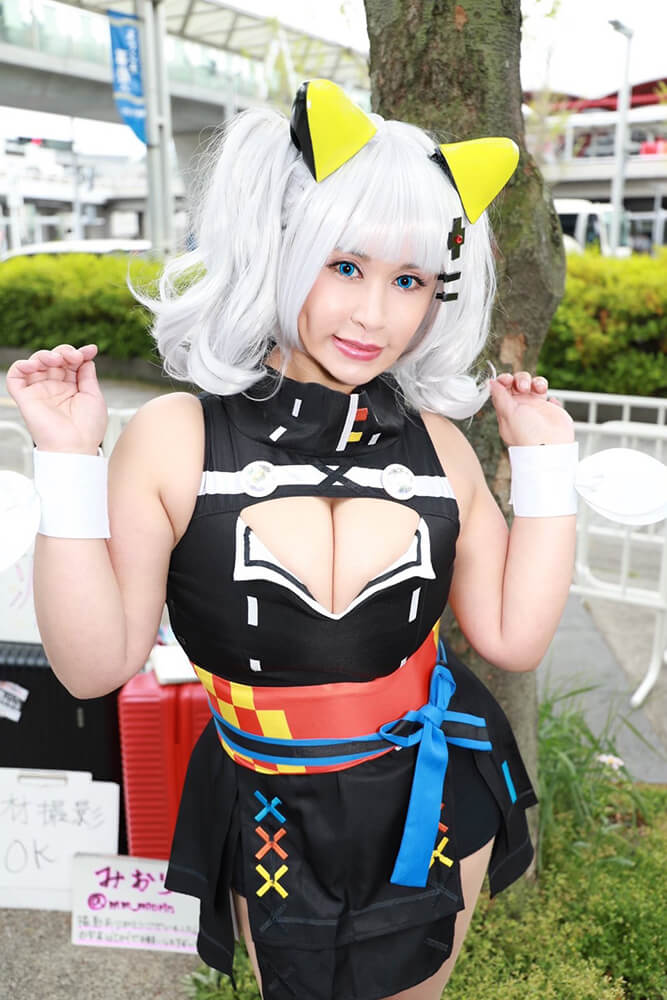 --- What got you into cosplay originally?
I used to photograph cosplayers, but I started cosplaying myself very late when I was 30 years old.
The person I was dating in Japan for a long time broke of our engagement... My heart was in great great pain...
Actually the name "Itako" came from the pain that I had in those times.
In the beginning when someone would ask me why I named myself that, I was still so hurt that I was unable to tell the real story so I just said "Starting cosplay from age 30 is a pitiful thing, so I gave myself that name." But in reality the origin is because my heart was in pain.
Since it was so painful for me, I wanted to find something new that I could fascinate myself with.
But I already experienced so much in life, so a world that I don't know yet would have to be cosplay! That is how I started it.
I studied the characters, how to prepare the costumes and wigs, practiced makeup and more... When I turned my head around for cosplay I was able to forget about my broken heart.
Cosplay healed the injuries I carried from a broken heart!
My first cosplay was "FF13" Lightning, I wore it at Tokyo Game Show as a general participant.
Since the game was released that year, I was surrounded by photographers. That made me very happy.
--- What do you think is the charm of cosplay?
For me cosplay gives me the possibility to change myself freely.
From a very sexy lady to an old grandmother, with cosplay I can change myself freely according to my curiosity. That is the charm of cosplay.
Also, for the people who cosplay a character because of their love for them it might be an unpleasant opinion but for people my age, cosplay can give us back the feeling of joy, so that is also an appeal for me.
I needed courage to start cosplay with 30, and I was a bit scared.
I am certain that girls in their teenage years or around 20 look cuter in cosplay...
But once I gave it a try I was so excited to become a character.
I was able to become Lightning?! Like that.
My mood rises, I get motivated, I even feel like trying other challenges besides cosplay.
So for people around 30, 40, who think "Maybe I should settle down now...", I think it could be a good idea to try cosplay in order to celebrate life once again.
--- Do you have advice for cosplayers who want to participate in overseas events?
I sometimes get invited as a guest and judge to American and Malaysian cosplay events.
Overseas cosplay is seen as "Japanese culture" very strongly, foreigners are very careful so they always have me accompanied by a translator even though I can speak English.
So at overseas events if you get invited for work you should usually get a translator, there is no need for worrying about that.
However, you should learn about the religion of the country you are visiting beforehand!
There are also countries where cosplaying culture has just become a thing recently.
Perhaps, in these countries it is really about enjoying cosplay, not so much about protecting the characters image.
When I first cosplayed in Japan, I did not know about the cosplay rules in Japan...
I really liked the Anime Love Live! and wanted to cosplay it even though it would not suit me, so there was a case where I received a lot of hate for destroying the characters image.
I learned that in Japan I have to take care who to cosplay.
But overseas there are countries where this way of thinking has not been soaked in yet, cosplaying a Japanese character as a foreigner is harder than for Japanese...
As a matter of fact I often get told by foreigners who live in Japan that the criticism from Japanese fans who desire high quality when it comes to recreating a characters scares them so they can't cosplay...
At overseas events however I think you should just completely and freely enjoy cosplaying the character you want to be.
I want cosplay to find roots in Iran too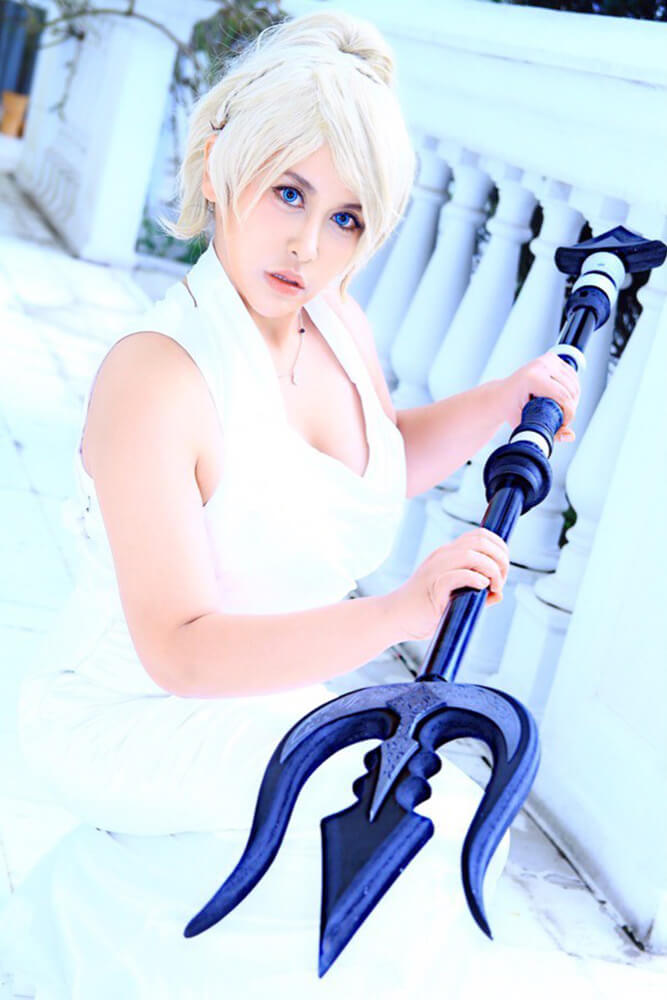 --- Is there anything you were shocked about when cosplaying?
I call myself the queen of boobs.
I have K-size cups so I believe that my strength lies in cosplaying characters with a huge chest.
So last year, I got a job offer to cosplay a character with big breasts from a smartphone game, and even though I was very happy about it, I ended up being switched out for someone else suddenly.
The reason which made this the incident that shocked me the most was "There might be people who dislike huge breasts if they are real."
I was shocked that someone would be displeased by big breasts that are real, but not if they are just pushed to look like they are big.
Until now I tried to flatten my chest to cosplay characters who don't have huge breasts, for male characters I could not even cosplay them if I wanted too so I have been through lots of troubles but I never thought I would face hardships when it comes to cosplaying characters with huge breasts.
--- What would you like to challenge next?
I saw cosplayers performing on event stages, doing skillful dances and backflips. I was amazed that one could do so many more things with cosplay.
So I plan to also do performances in cosplay sometime.
I also practice to sew cosplays.
I made a costume for "FF7" character Aerith before, but my mother saw it as left-over fabric and threw it away.
I want to make costumes that my mother would not think are left-over fabric one day.
I also want to become a Youtuber.
I wante to cosplay Soma and recreate recipes from Shokugeki no Soma, and also make other kinds of videos.
Also, it is just a meager dream of mine, but I want to hold cosplay events in Iran!
Japanese people's skills are fascinating, so if they would use Iranian fabric for covering up the head to form a cosplay and display it, Iranians would be sincerely happy.
Iranians can only show their face so the makeup industry is very advanced, but regarding wigs we are very far behind so there are a lot of concerns related to wigs.
From how to put on a wig, styling it or not being able to get the desired colour, if these questions would be answered in Iranian events, it would benefit the cosplay culture very much.
Summary
Hearing the circumstances of the cosplay culture in Iran, it makes us realize how much cosplay is loved all over the world. As a Japanese, we feel very glad about that.
It was shocking to us that since a lot of characters are Japanese, many foreign cosplayers seem to face an atrophy due to the demand of high quality in recreating a character.
Itako said "If cosplay culture would expand more overseas but also in Japan, many more people could find happiness through cosplay", giving us the feeling that she carries a kind and gentle love for cosplay.
Since she is brimming with curiousity as she herself says, we are sure she will continue to callenge many new things and are looking forward to her future activities.
gallery


emoma!channel On YouTube!Check now from below!!!


この記事を書いたレイヤー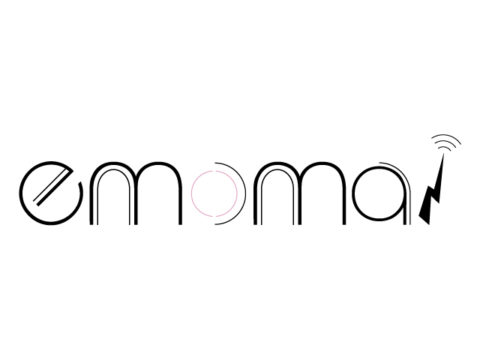 emoma!編集部
emoma!(エモマ)の編集部です。 さまざまなコスプレイベントに潜入した際にはレポートを配信しています。